ISIEINDIA Conducted Women empowerment project at COE- EV Aurangabad, Maharashtra
ISIEINDIA Conducted successfully completed Electric Vehicle Training with Retrofitting Program from 6th to 25th October which was sponsored by Varad Crop Science Pvt. Ltd Jalna. This Training Program was organized to give an idea of how the Electric Vehicles are different and more efficient over ICE with 25 ITI Girls.
In this Skill Development program, they talked about
EV architecture
HEV/PHEV & their components
Types of motors
Motor Assembly & Controller
And the battery packs.
DAY 1
Basics of automobile engineering like the history of Vehicles, components and systems of ICE vehicle were taught. All the theoretical information was given.
DAY 2- 3
On the second and third day of training Basic Fundamental of EV EV vs. ICE Architecture of ICE , EV , HEV Types of EV were explained. Moreover, the market & sales of EV in today's segment. What are EV Opportunity and Available Job roles for Engg. in EV Sector were told to them.
DAY 4-6
EV Machines was the topic discussed on next day.
Types of DCMotors
Types of AC Motors
Induction Motor Controller Working of EV Machines
Along with theoretical part hand on training was given for better understanding.
Dis-Asm of Motor and Controller (Hand on )
Current & RPM Measurement in BLDC Motor , Hub motor and

Induction Motor ( Workbench to be used – EV Machines)

Mathematical Modelling of Drive Train 2.Circuit Diagram ( Workbench to be used – EV Circuit Training).
DAY 7
EV Powertrain and it's type of Drive Train Section of Component Case Study – Selection of Motor , Controller for 2 Wheeler EV.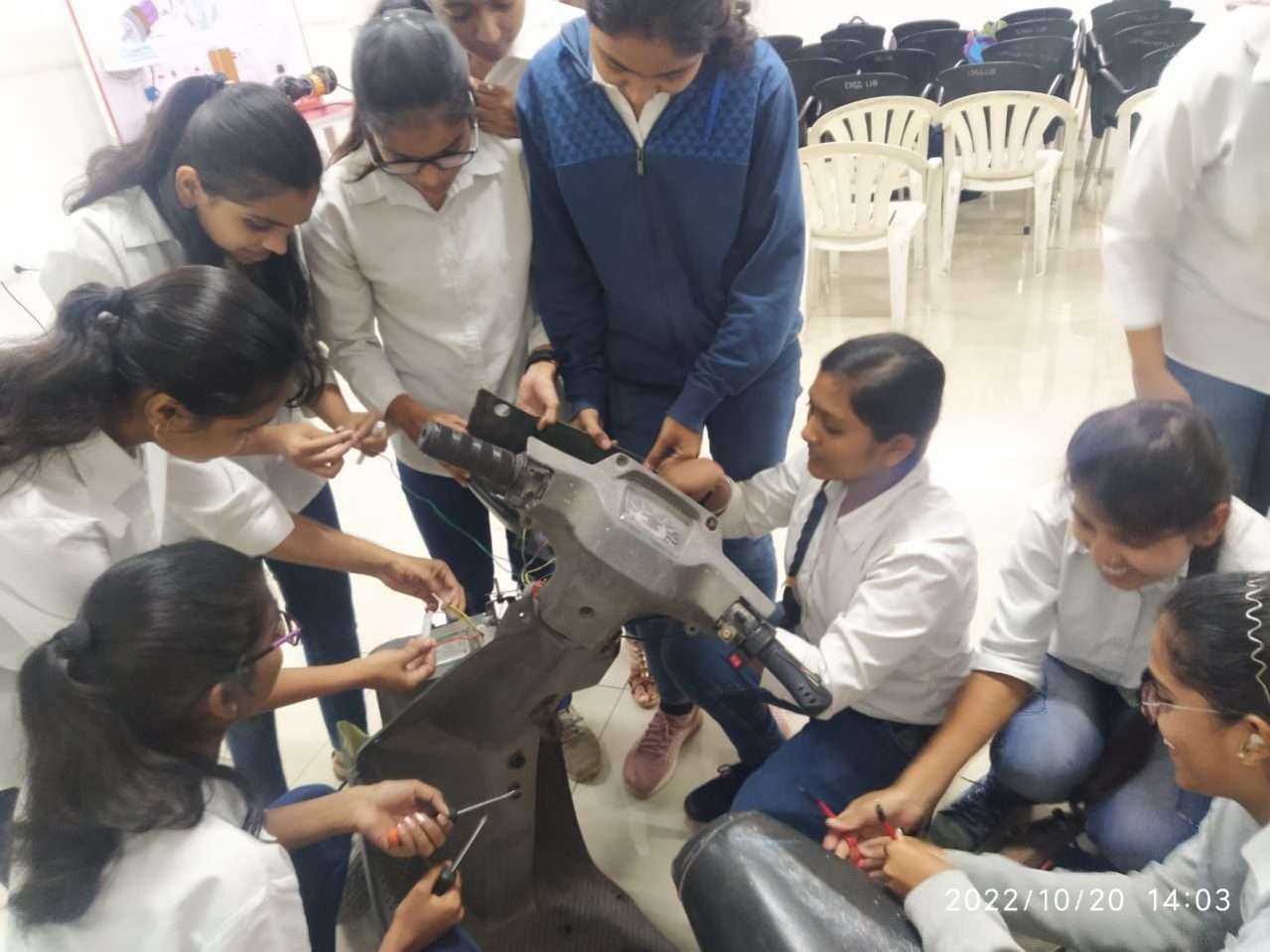 DAY 8
In the presence of the mentor students did hands on training on EV Battery and BMS Types of Battery Types of Cells BMS Fundamental Battery Fundamental – Charging Discharging , SOC
1.Battery Design – Mathematical for 2 Wheeler
Experiment on EV 2Wheeler Workbench
DAY 9
EV Battery & BMS Testing Procedure of Battery Pack Manufacturing ( Cell Sorting – Cell Grading – Charging (Balancing) , BMS Testing , Welding of Pack , Battery Load Testing , Battery Ageing )
Hand son Training on Electrical Circuit Training & Component test under the guidance of mentors.
DAY 10-12
Proper training was given on how to design and testing of EV circuit, designing and testing of EV circuit, Retro fitment of 2 Wheeler Bike.
ISIEINDIA is working with many Automotive Giants across the India and looking to connect with all the EV Industries to help them in training and development of their engineers, vendors, trainees etc.