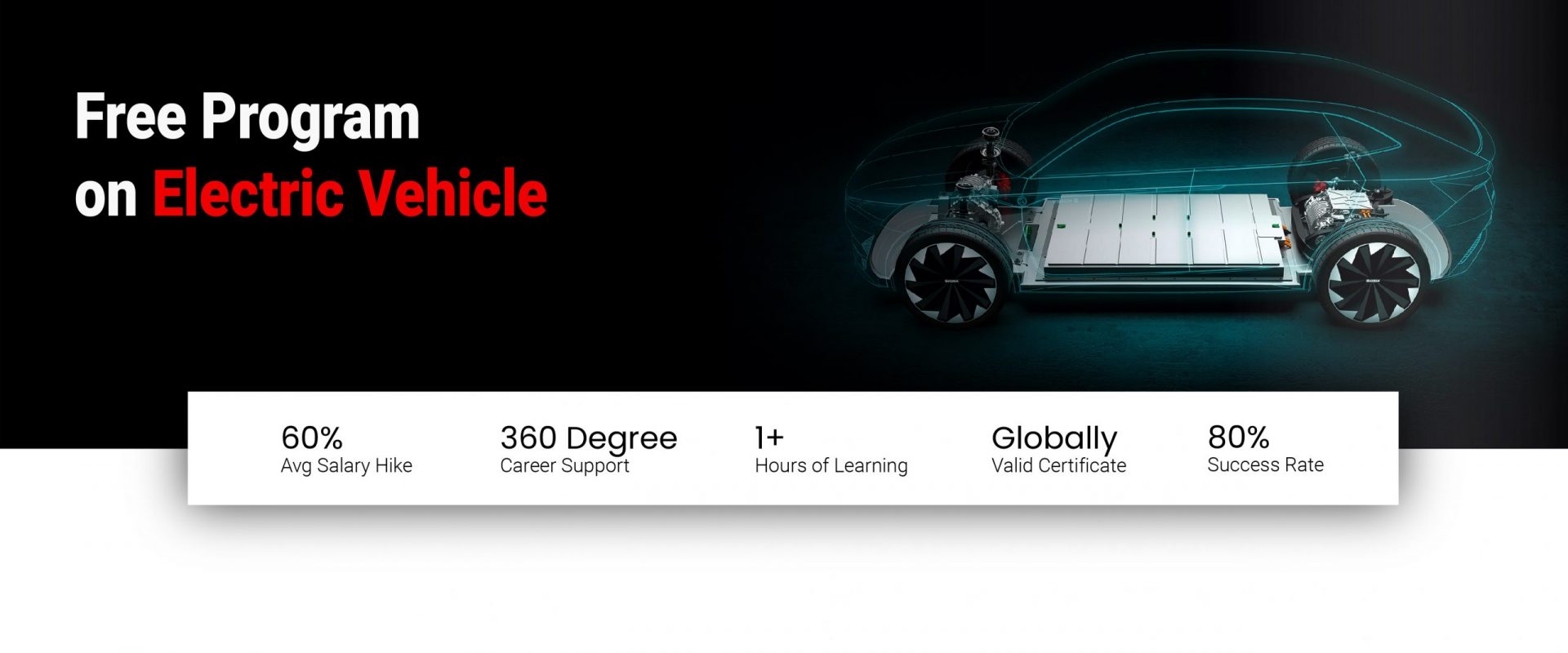 Featured Programs for you
Electric Solar Vehicle Project Management
Get 1+ hours learning sessions, a masterclass by industry experts
Exposure to global job opportunities
Design, Manufacturing & Testing of Electric Solar Vehicle
Get 1+ hours learning sessions, a masterclass by industry experts
Exposure to global job opportunities
Entrepreneurship Program on E-Mobility
Get 1+ hours learning sessions, a masterclass by industry experts
Exposure to global job opportunities
E-Mobility Roadmap Technologies, Opportunities and Challenges
Get 1+ hours learning sessions, a masterclass by industry experts
Exposure to global job opportunities
Still Not sure?
Talk to our Expert Mentors
Latest Development in the Field of Electric Mobility
Get 1+ hours learning sessions, a masterclass by industry experts
Exposure to global job opportunities
Electric Vehicles and Mobility
Get 1+ hours learning sessions, a masterclass by industry experts
Exposure to global job opportunities
Battery Pack Thermal Solution using Ansys
Get 1+ hours learning sessions, a masterclass by industry experts
Exposure to global job opportunities
Future Technology of EV
Get 1+ hours learning sessions, a masterclass by industry experts
Exposure to global job opportunities
EV Market and Opportunities in India
Get 1+ hours learning sessions, a masterclass by industry experts
Exposure to global job opportunities
Lithium Battery: Where is the technology growing?
Get 1+ hours learning sessions, a masterclass by industry experts
Exposure to global job opportunities
Transform your career with ISIEINDIA
services
Career Counselling
Get relevant career paths traced by experts to ascertain the best opportunities.
Resume Feedback
Get feedback on your resume from experts through resume-building workshops.
Industry Oriented Curriculum
Get relevant course content by our expert so that you can achieve the best opportunities.
Job Assistance
Access to global job opportunities and virtual hiring drives with our 300+ hiring partners.
With India's largest online higher education company, get 360 degree career support. mentorship from industry experts, networking opportunities, and more.
Lowest Price
Get the Industry Level content and curriculum at lowest rate possible.
Easy Lesson
Courses designed in such a way that it is easier to learn even when you are changing the domain
Industry Mentor
Interact with our Industry mentor & gain access to vast network of expert from all domain
Research Paper
Publish Research Paper from IIT on the selected domain of your choice
Doubt Resolution
Have any query/problem statement you need to be resolved we have a doubt session every weekend
Placement Assistance
Get informed about Vacancies (Internship/Job/Training Program) in the industry, exclusively for ISIEINDIA candidates.
Our Track Record
Because words aren't enough, we let numbers do the talking. 🙌
Powertrain
Power Unit
Charging
Motor Structural Design Engineer
Battery Pack Design Engineer
Power Electronics Hardware Engineer
Motor Control Systems Designer
Battery Test Engineer
Charging Control Systems Engineer
Control Systems Designer
Battery Packaging Engineer
Charger Design Engineer
Power Electronics Hardware Engineer
Battery Management Engineer
Charging Test Engineer
Hardware Design Engineer
BMS Software Developer
Energy Supply Equipment Engineer
Motor Testing Engineer
Thermal Management Systems Engineer
System Test Engineer
PROGRAM CURRICULUM & LEARNING EXPERIENCE
How good is the Professional Master's Certification Program Course from IIIT Bangalore?
How are placements & career support after Professional Master's Certification Program in EV?
What are the important features ISIEINDIA Professional Master's Certification Program in EV?