5 Days EV Training at ISIE – Center of Excellence, Aurangabad

ISIEINDIA Organized 5 Days EV Training at COE-EV, Aurangabad from 17th May to 21st May has successfully ended after the visit to EV Workshop at "Vidyutyantra E Mobility Pvt Ltd."  to give a basic idea of Electric Vehicle to Second & Third year Engineering students. 35+ students attended this EV Bootcamp and got to learn about "History & Architecture of EV, on the initial day of bootcamp,  Motors & its working and assembly/disassembly, EV powertrain components, calculations, cell selection & battery pack calculations. Lots of other hands-on sessions were also performed, Specially designed LAB ork benches. For better understanding they also visited other Electric Vehicle Workshops. Students was highly motivated & attentive towards learning, through out the journey and enlightened about EV architecture, market and scope in the industry.
Day 1
Topic : EV Architecture, Components and there working
Hands on : Introducing physical components to the students
Workbench : Introduction of all workbench, 2-Wheeler EV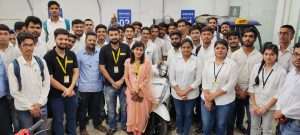 Day 2
Topic : Motors used in EV, Different types of motors and there working
Hands On : BLDC Spare motor assembly disassembly
Workbench : Motor Cut Section Workbench
Day 3
Topic : Powertrain Calculation, Introduction to Batteries, Battery pack
Hands On  : Current and Power Consumption and Series & Parallel cell combination
Workbench : Spare cells available in LAB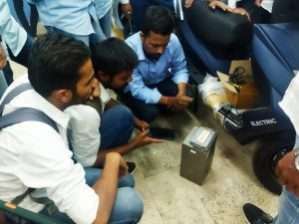 Day 4
Topic: Circuit Diagram of EV, Different Power Supply in EV
Hands On: Drawing the Circuit Diagram and Measuring voltage flow and current flow in circuit
Workbench: EV Circuit Training
Day 5
Hands On : Assembly of EV Components checking of power supply.